Evaluation of the Juno Project
In 2013, the Institute of Physics commissioned an independent evaluation of Project Juno to understand the impact that it has had on physics departments in its first five years of operation. Oxford Research & Policy was commissioned to analyse the survey data.
Four surveys were run and five focus groups in departments at different stages of their Juno journeys. The results of the evaluation were overwhelmingly positive, and the physics community is extremely supportive of Juno.  A number of recommendations were made to improve the scheme.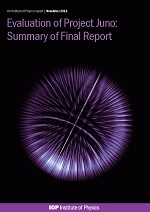 Download the summary evaluation report here.